Automated opportunity discovery with NICE Automation Finder
Fast and accurate identification of the right processes to automate is a key element of successful robotic process automation (RPA) deployments. The NICE Automation Finder is an artificial intelligence (AI) infused innovation designed to identify business processes that are ripe for automation. It is a scientifically driven approach rooted in precise data analytics.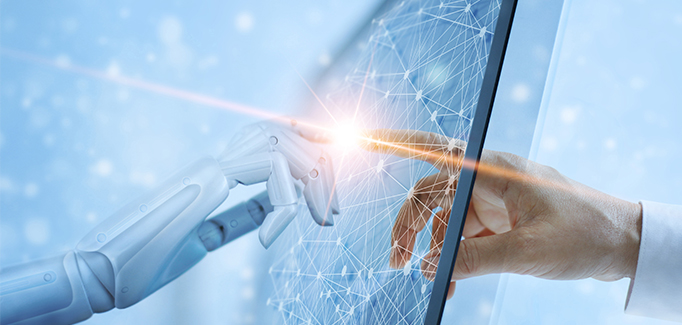 NICE Automation Finder: the science of process discovery
Organizations around the world are facing rising competition, heightened customer expectations and tighter regulation. Many enterprises are investing in robotic process automation (RPA) in an effort to improve their ability to operate effectively in this complex and dynamic landscape.
They understand that RPA offers them the means to elevate efficiency and accuracy in business processes, improve employee engagement and productivity, and deliver superior customer experiences. But many companies are less sure about where to start their automation journeys. Among the most important questions they need to answer are:
Which of our business processes should be automated?
How do we determine which business processes are most worthwhile to automate?
Getting to the right answers about automation opportunity discovery is essential for any organization hoping to unlock the optimal return on investment (ROI) from RPA. There are many opportunities awaiting digital transformation in large enterprises – the trick is to find the best ones.
All too many companies today still conduct process discovery and automation opportunity discovery using manual tools and techniques. They task their business analysts, operational managers or IT with automation discovery – and these people use human judgement and trial-and-error methodologies to discover candidates for automation. In most cases, the first process selected is the one which most people complain about performing manually. But it is usually not the best one to start with.
That approach means that many of the best opportunities for automation are missed and that many organizations focus on automating the wrong processes.
There is a far better approach, where process discovery and automation discovery is itself, automated. Using Automation Finder for accurate selection of processes to be automated will help set the enterprise on a successful path throughout the automation journey.
What is Automation Finder?
NICE Automation Finder is an artificial intelligence-driven, out of the box solution that makes it quick, easy and cost effective for enterprises to pinpoint processes that can be automated for optimal ROI and efficiency. This ensures an RPA journey starts on the correct path and remains on the right track.
Based on a mix of desktop analytics and machine learning capabilities, the Automation Finder automatically identifies processes with potential for automation and then creates those automations. This is a comprehensive and scientifically driven approach to automation discovery that removes the guesswork.
How does process discovery with NICE Automation Finder work?
Automation Finder enhances automation opportunity discovery by assessing the potential ROI and prioritizing projects by considering how long a process takes, how often it's executed every day, how many repetitive tasks it includes, which applications it involves and how many employees regularly perform the process.
Automation opportunity discovery with Automation Finder involves gathering data from employee desktops and then plugging this data into cognitive algorithms for analysis. The data collected for process discovery includes employee actions such as:
keystrokes
mouse selections
applications used
pages visited
field entries
handle time
number of users which performed each of the sequences which were recognized
This type of data is the most relevant for discovering operational process candidates for automation. Not only does NICE Desktop Analytics have the intelligence to classify employee data into meaningful actions, but it also tracks the handle time for these actions, with the ability to isolate and hone in on only in-process related actions.
Automation Finder accurately uncovers a series of process paths and reports its results through the NICE Automation Portal. The algorithm identifies repetitive patterns of employee actions and behavior from screen events, and recommends precise process paths or workflows that have the best potential for automation and attainment of ROI.
The data collection process takes into account the application context and the page context of the activity it is watching. The results that Automation Finder generates include statistics for each user and business unit, a user journey view, and recommended flows.
The processes selected for automation can be designed with the NICE Automation Studio and executed using NEVA (NICE Employee Virtual Attendant) or NICE's unattended robots. In the next phase, less development time will be needed to build the process flow. Automation Finder will send the workflows to Automation Studio, which will automatically build the automation flow—robots that can build more robots.
What are the benefits of Automation Finder for automation discovery?
NICE Automation Finder will benefit any organization by increasing the likelihood of successful process discovery and automation deployments. It creates a cycle of continuous business process discovery, optimization and operational success.
Some of the benefits of the tool include:
Comprehensive automation opportunity discovery: Automation Finder undergoes a complete discovery of all repetitive sequences or tasks executed by employees across the workplace.
Accurate recommendations: Each recommendation is based on accurate analyses of real workplace data.
Continual optimization: Automation Finder is a long-term solution, as it continually discovers and prioritizes processes that are ripe for automation. This provides organizations with a steady stream of RPA friendly process candidates, in an ongoing effort to continuously reach new levels of operational efficiencies.
Sophisticated cognitive technology: Automation Finder leverages intelligent cognitive technologies such as: unsupervised machine learning and deep learning.
Why is NICE Automation Finder the best solution for digital discovery?
NICE is the only RPA innovator in the market with the capabilities to extract and analyze millions of employee desktop actions, leveraging its powerful and flexible desktop analytics capabilities. Automation Finder seamlessly collects significant amounts of desktop data and then utilizes AI to analyze millions of employee actions to recommend the best business processes to automate.
Automation Finder dramatically speeds up the discovery process, which is traditionally long, cumbersome and fraught with inaccuracies. It's the most accurate solution in the market, backed by NICE's deep experience in the RPA, robotic assistant and analytics markets. This allows organizations to smartly plan and develop their automation roadmap, increase their automation footprint, and ultimately speed up ROI.